In the instructional design world, the books authored by Dr. Robert Mager have been the foundational resource for decades. Now, with a new look and new copyrights, the current edition of these original works are available to you at lower prices through Mager Consortium.

For International shipping, expedited shipping, or Bulk rates (quantity over 10) please email [email protected]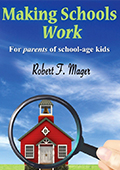 This book is your opportunity to find out where the schools have lost their way, and what you can do to get them to make improvements. Armed with information from this book, you can make a difference with suggestions that are known to work.